MOUSEPAD IS A PERFECTLY GOOD CODE EDITOR WHEN IT COMES TO HTML
And just to prove that, this ENTIRE WEBPAGE will be written in XFCE's mousepad text editor
Why?
Well, one because my friend did it in Windows' Notepad here and I have OSSD (Open Source Superiority Disorder)
And two because ITS AN AMAZING EDITOR LET ME SHOW YOU
ONE ITS FUCKING BEAUTIFUL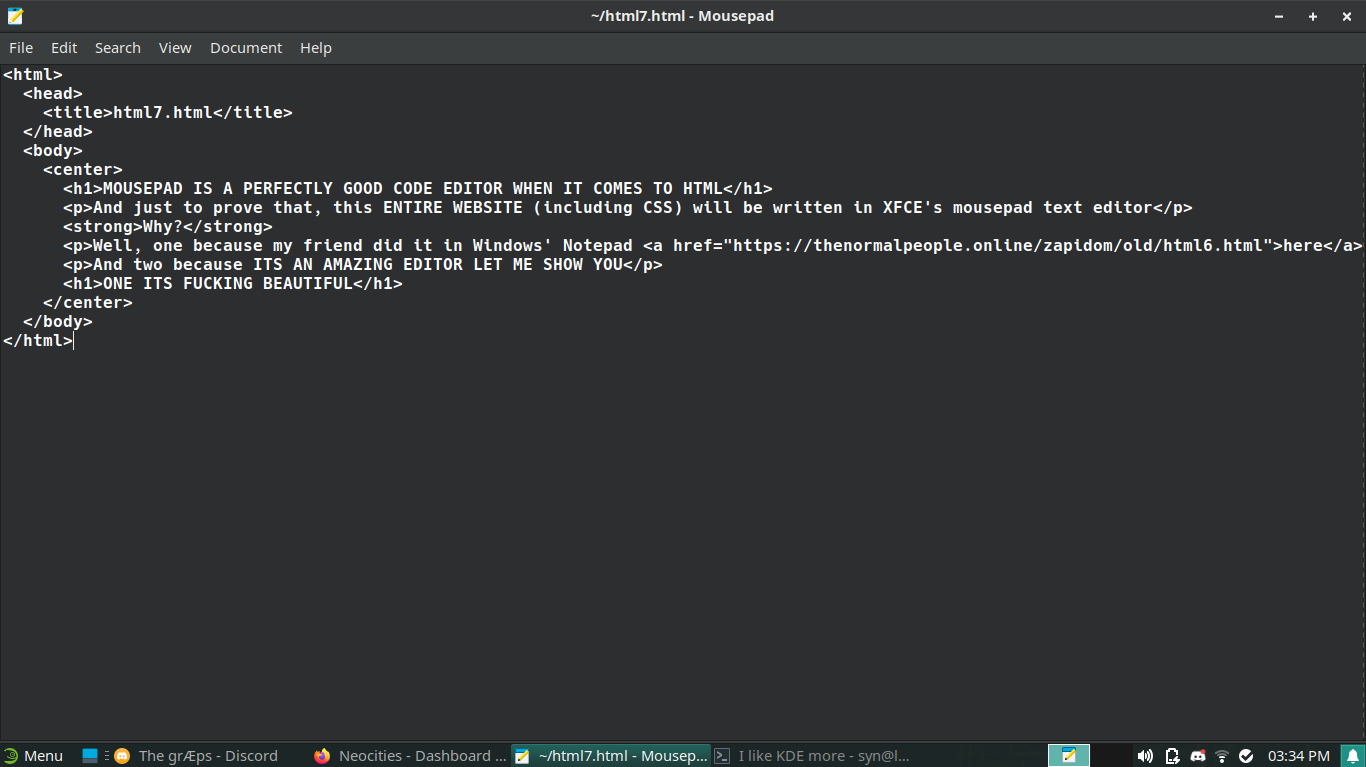 Look at this. No syntax highlighting with the funny colors to distract you,
no automatic indentation so it ensures you work hard,
Pure.
Unadulterated.
BLISS.
Don't like it?
Try a new editor for crybaby ass BITCHES.
YEAH, I WENT THERE.
THIS IS CODING AS THE FOUNDING FATHERS INTENDED
YEEEEAAAAAHHHHH I SAID IT
bill gates, linus torvalds, steve jobs, jeff bezos
all FAMOUS programmers that DIDNT NEED
NO
IDE
AND YOU DONT EITHER, BOYSKYLARK
BE A MAN
INSTALL OPENSUSE LEAP
AND CODE IN A FUCKING TEXT EDITOR.


ZAPIDOM I SEE YOU
I wanted to make a DECENT AND RESPECTFUL FORK OF YOUR PRODUCT zapidom from The Normal People:tm:
But you have brought war to my, and all other Linux users doorsteps.
I give you 12 hours to sign this peace treaty before I NUKE EXETER and replace it with FLORIDA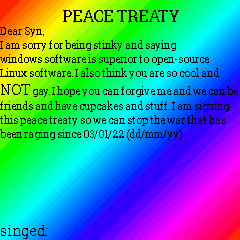 I GUESS I GOTTA MAKE THIS HAPEN
First of all, your stupid fucking link doesn't even work dipshit.

Second of all, let's get something straight.
I WILL RIP YOUR ENTRAILS OUT AND EAT THEM LIKE ITS FUCKING WENDYS COCKBITING, RETARDED, MONKEY.
do you even UNDERSTAND THE POWER I HAVE??????? WHAT I WIELD???
JUST SIGN THE FUCKING PEACE TREATY, I'VE GOT STUFF TO DO.
THIS IS YOUR LAST WARNING. YOU HAVE 15 MINUTES. SERIOUSLY.
0d 0h 8m 5s
Countdown halted.
VERY ENTICING TERMS.
Alright. You win. But I can't guarantee a working system because I'm just not very smart. Your gamble.
Original idea by Zapidom/at0micghost

FLOSSified by synesthesium